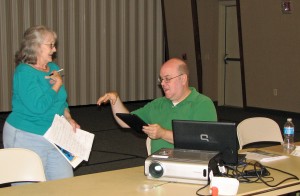 MINUTES OF THE MEMBERSHIP
6 MAY 2014
Jean Gurkin, President, called the meeting to order at 7:00 pm. Vernetta Lange read the minutes of the previous meeting in the absence of the Recording Secretary, Chris Oakley.  Eleanor Trigg motioned, Willene Brinn seconded to accept them as read with one noted exception:  The time change for the Bath Fest.  There was no treasurer's report due to the absence of the Treasurer, Louise Cowell.
Willene Brinn, Corresponding Secretary, presented several publications of interest and introduced James Spencer, guest, recently interested in genealogy.  A discussion and demonstration on locating graves with diving rods ensued.
There were no 5th generation charts presented.  Jean is still working on Cedar Hill, about row 8 or 9.  No committee reports.  Jean provided each member present a schedule of events of the Bath Fest scheduled for 5-17-2014.
Jean requested we continue to think/recommend a new place to hold our meetings.  Some feel our present meeting place is difficult to get to.
Jean received a copy of a Bible regarding Hiram Potter to be included in our Bible Project.
Jean mentioned the Archbell Cemetery outside of Aurora is in dire need of cleaning and restoring.  Willene suggested we call on the boy scouts.  Jean said she will look into it.
Willene said the Hyde Co. Historical & Genealogical Society will meet at Mattamuskeet School on Sunday 5-18-2014 at 2:30 pm.
Jean introduced David French with the Family History Society of Eastern North Carolina who introduced his guests – Kay Currie and Dorothy Little Tugwell.
Mr. French presented an excellent program outlining The Family History Society of Eastern N. C.  He became interested in identifying the nationalities of the original settlers of New Bern in particular and it mushroomed to include all of eastern N. C.  The Society began in March 2910.  Their next meeting will be September 26 & 27, 2014 at the New Bern Convention Center.  Everyone present is invited.  Plus he said pass the word around.  Additional information can be located at www.encfamilies.org.  Phone:  252-349-0405.  The society is at work on a project they call Heritage Park Project.  When completed it will present information relating to all original settlers of eastern N. C.;  native Americans, French Huguenots, English, Scots, Irish, Norse and Afro-Americans both free men and slaves.  He presented several handouts.  Of particular interest, was one advertising a publication entitled Crafting Lives which features African American Artisans in New Bern, N. C.  1770 – 1900.  It can be obtained from UNC Press.
Willene motioned, Jean seconded that the meeting be adjourned at 8:45 pm.
Respectfully submitted,
Vernetta Lange