The James H. Hill Cemetery
Surveyed by Ted Hill
To get to this cemetery from Chocowinity, go South on US Hwy 17 about 5 miles and turn left on Possum Track Road, #1127, go about 2 miles and turn right on Haw Branch Road,
# 1129, go about 1 ½ miles to 1378 Haw Branch Road (You can see Haw Branch Church on your left) and turn right onto a dirt lane and go about 0.1 mile to an old pack house on your left. Park your car and go left (South)  about 325 feet across a field and into the woods. The cemetery area in the woods has been cleared and is fairly easy to get to.
The GPS coordinates are:       N35degrees 25.365min & W77degrees 04.916min.
There are three known graves in this Hill Family Cemetery and this cemetery has not been listed in other cemetery surveys that I am aware of.
1. James Henry "Jim" Hill, Headstone, James H. Hill, born June 14, 1847, died Jan 30, 1929. – He married Lottie Ann Elizabeth Corbitt on February 29, 1876, in Pitt County, NC. He was the father of John T. Hill, who married Selecta Victoria Edwards and lived here on this farm, James Walter Hill who married Mary Irma Hill and moved to Norfolk, VA., Mary Rowena Hill who married Fredrick Johnson Taylor and lived on a farm at the end of the pavement on Haw Branch Road about 2 miles from here and Jesse Hill who never married.
2. Lottie A. Corbitt,  Headstone- Lottie A. , wife of J. H. Hill, above, born Oct 24, 1851, died Aug 22, 1920, "A tender mother and a faithful wife."- Her father was James Mason Corbitt from Pitt County. She was the wife of James H. Hill
3.Jesse Hill, b. 1878   d. Headstone, He was the son of James Hill and Lottie Corbitt.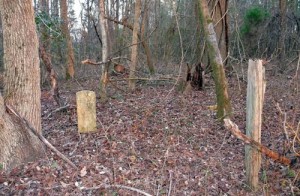 The James H. Hill Cemetery before Ted Hill cleaned the cemetery and set up the two markers that had fallen/been knocked over.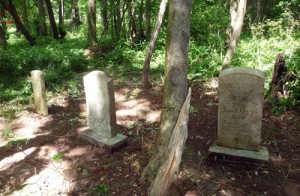 The James H. Hill after cleaning area and setting up the headstones.