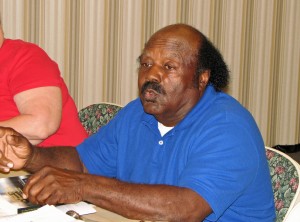 BEAUFORT COUNTY GENEALOGICAL SOCIETY
MEETING OF THE MEMBERSHIP
3 JUNE 2014
The meeting was called to order at 7:00 pm on 4 June 2013 by President Gurkin.  We met at the Church of Jesus Christ of Latter Day Saints in Washington, NC.  The President welcomed everyone to the meeting.
The minutes of the May meeting were read by the Secretary, Chris Oakley.  A motion was made by Willene Brinn, second by Bunyon Keyes, to approve the minutes as read with the corrections.  Motion carried.
The Treasurer, Louise Cowell, gave a report for April and May.
Willene Brinn gave the Corresponding Secretary's report.  This month she received the NCGS News and High Tides from Hyde Co. Historical & Genealogical Society.
Old Business and Committee Reports:
5th Generation Ancestral Charts: Albert reported that the pedigree chart for David French will be submitted soon.
Cedar Hill Cemetery:  Jean is still making progress towards completion.
Website Committee:  It was reported that the Bible Records, minutes and some pictures will go on the website. www.bcgs.online.com
Bath Festival: Thanks to Russell, Janice, Albert, Jimmy and Jean for tending the BCGS booth.  We made $10.00.  There was a note from Lee Swain thanking BCGS for the genealogy booth in Bath.
Archbell Cemetery: Roy Archbell will be notified that BCGS is not interested in cleaning cemeteries.
New Business:
A motion was made by Louise Cowell, second by Vernetta Lange, to not meet in July and August, 2014.  Motion carried.  There was mention to change the by-laws to say we would not meet during these months for a regular meeting.  A speaker for September could be Eugene Grant, Jr. who has done articles on Blackbeard. Willene will call him and see if he is available for September.  Albert mentioned having Stan White and Hood Richardson to speak.
BCGS will have its 30th anniversary coming up soon.  What do we want to do?  No suggestions were made, so Jean asked everybody to think about it.
Some of us will help Bunyon do the Keys Cemetery survey at Blounts Creek. Date to be set later.
Albert was approached by DSS to have BCGS help locate parents and family.  He will invite the contact person at DSS to come to the September meeting to explain what they would like from us.
Other things mentioned: Eastern NC Family History Fair & Road show with Bunyon Keyes.  We can promote our society on Sept 26th & 27th in New Bern. There will be seminars & classes.  Friday has fees for the classes.  Craven County Genealogical Society will lecture on line – mini civil war programs.
Palatine Group will meet the 3rd Saturday in May and 3rd Saturday in Jan at Olivia Raney Library.
Program:
Bunyon Keyes was the speaker for the evening.  He talked about his book on the black people at Blounts Creek.  His book is entitled: Over Three Hundred Years of Black People in Blounts Creek, Beaufort County, NC, Book I, by Bunyon Keys.  He has spent over 15 years researching information for the book.  It was a very interesting presentation.  Thank you Bunyon.
Adjournment:
A motion to adjournment was made by Russell, second by Odell Parker, to adjourn the meeting at 8:35 p.m.
Present: Vernetta Lange, Jimmy Taylor, Russell & Janice Tyson, Mary Disharoon, Jean Gurkins, Chris & Doug Oakley, Willene Brinn, Albert Everson, Louise Cowell, Leroy Waters, Burl Brinn, Bunyon Keys, David French, Sandy Guton, Odell Parker, Jenny R. Hollowell, (18).
Minutes by Crestena Oakley, Secretary BCGS