Survey begun by Louise Cowell and Jean Gurkin April, 2013 and completed by Ted Hill from Baltimore in April 2014 when he was here visiting and Jean.
This cemetery is located about .1 mile at the back of the field next to the first house on the right after turning off Clay Bottom School Road on Ephesus Church Road. The GPS coordinates are N35°25.712, W77° 00164. A couple of markers can be seen from Ephesus Church Road. The cemetery is not maintained. Because of many fallen trees, some very large, and the undergrowth it was not possible to get an accurate count on the number of unmarked graves. However we did find five graves with markers. This cemetery is about 20 paces wide and 20 paces deep.
Row 1:
"Hattie" Erma G. Lewis Oct. 25, 1905 – Mar. 2, 1940 Wife of Ottis Lewis At Rest
Iona Lee Dau of L. R. & B. M. Buck Dec. 19, 1923 – June 23, 1925 From Mother's arms to the arms of Jesus.
L. C. Hill Born Apr. 7, 1851 Died Oct 21, 1923 Fond memory points our hearts to thee
Row 2:
Memory of Jessie A. Hill, Born June 22, 1887 Died Oct. 3, 1890 Our Jessie has left us but why do we mourn, she is above with the angels, the Lords will be done. (broken stone)
Partial Funeral Home Marker
Back row (back several rows)
Hattie M. Wife of A. E. Hill July 6, 1846 – Aug. 19, 1998 We trust our loss were be her gain
Amariah E. Hill Corp Co. K 17 N. C. Inf. C. S. A. Sept. 22, 1837 – June 11, 1906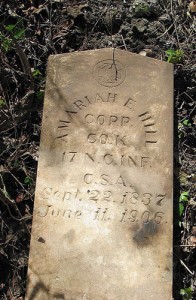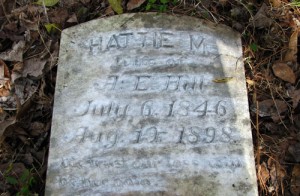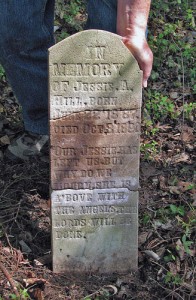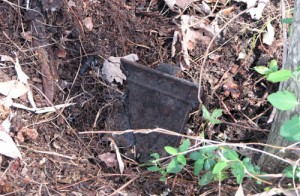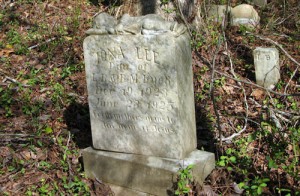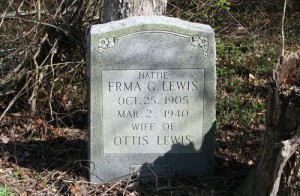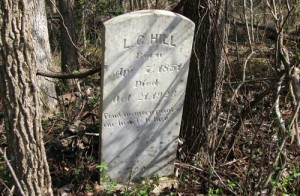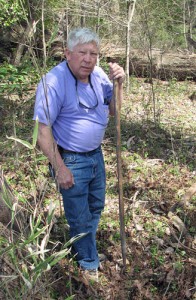 Ted Hill helping survey this cemetery.